Active substance:

Testosterone Cypionate

Presentation:

2 mL vial (250 mg/mL)

Manufacturer:

Gen-Shi Laboratories

Listed:

April 28, 2015 12:01 pm
Description
Testo-C – an anabolic and androgenic steroid from the Japanese pharmaceutical company Gen-Shi Laboratories. The main active ingredient – Testosterone Cypionate. Composition – multiple injection of 2 or 5 ml, 250 mg/ml. Cypionate is one of the longest esters available today. The drug provides sustained effects, but because of this it has more water retention. Very often Testo C used in combined cycles for a set of muscle mass.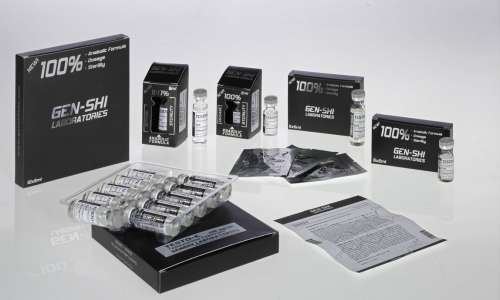 By the nature of its impact, cypionate is no different from the usual testosterone – the main male sex hormone, forming behavior, and responsible for, such as the externally visible manifestations of sexual desire, deepening of voice, muscle hypertrophy and aggression. The main disadvantage of the Testo-C preparation is its ability to aromatization. Conversion of estrogen may lead to male female reproductive traits, for example, gynecomastia, fat, water retention. In severe cases – inhibition of sexual desire and testicular atrophy.
Testo-C Effects
Rapid increase in muscle mass. However, the ease of conversion into estrogen leads to the fact that about one-third of weight gained is lost on completion of the cycle. For this reason, the use of cyclic steroid is difficult.
Increase in power performance.
Increase in red cell blood.
Increase motivation.
Accelerate recovery.
Increased sexual activity and libido.
Testo-C Dosage / Cycle / Stack
Testo C cycle is recommended to athletes who wants to increase muscle mass and strength indicators. The duration of the reception varies widely from 4 to 12 weeks and is determined in each individual case, depending on the athlete's experience, its physiological characteristics and final reception purposes. The average weekly dose is around 250-500 mg. The drug is effective enough solo, but can also be used in combination (often – with Nandrolone). If the cycle is longer than a month, then is connected to the cycle – Gonadotropin, in a dosage of 500 IU, 1 injection once a week, starting from the third week of the cycle.
More detailed information about the steroids and the side effects can be found in Testosterone cypionate article.
Testo-C Reviews
Overall athletes impression about this steroid is quite good. From the positive reviews of testosterone cypionate from Gen-Shi Labs note the high efficiency to increase power performance and gain muscle mass. But at the same time, many users complain about the marked rollback phenomenon "taking away" half gained muscle mass.
Testo-C Reviews indicate high efficiency of the steroid as a solo agent, it is not recommended to delay the cycle. As for the use in combination, it is considered the best supplement – Nandrolone.
Alternative Testo-C Suppliers – Buy Testo-C Online
9141 total views, 7 today
Listing ID: 911543284a33aca4
Top Steroids Sales Overall