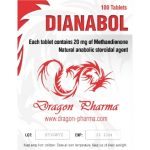 Dianabol, or as it is commonly called Dbol – one of the most popular, if not the most popular anabolic steroid, used by athletes for gaining lean muscle and increase athletic performance. Let's not talk about the dangers of certain drugs, everyone decides for himself to use or not to use them. Let's get to the facts and analyze how to take Dianabol.
It should be noted that the constant use of the drug in the same doses in a short time just will not give any result, because the body can "adapt" for a certain dose and will not respond. Therefore, from time to time, from cycle to cycle (if several), you will need to gradually increase the dosage. I repeat slowly, otherwise the consequences could be not good (meaning the side effects).
The result of the drug will be most effective if Dianabol is taken from 6 o'clock to 9 o'clock, and from 18 to 21, as it is in these intervals the level of testosterone in men is at the highest level (as a rule). But if for some reason you can not use Dianabol in these periods of time, it is best to approach this case with special attention, because reception will be purely individual. There is much more common regimen of Dianabol – the distribution of the daily dose into 3-4 receptions. But first, two single dose will be somewhat more favorable, because you will be able to balance the internal and external effects on hormones. Next, after some time, as well as the experience, acquired dose can be divided by the standard method.
Dosage (daily) should be about 20-25 mg, and can be shared, as we have said, in many ways. In the initial phase would be to take Dianabol in a cycle of duration of about 3-4 weeks. Due to not so long cycle (usually cycles last 6 weeks) can be avoided "addiction" of the body to the drug. Also, the side effects will be somewhat reduced. After the cycle must be done PCT, to restore your liver.
Since the drug increases appetite, it would be correct to take Dianabol before a meal – this will allow you to use a larger amount of protein (which is, in principle, and it is necessary to know). The food that goes into your body after ingestion of the drug, will serve as a source of energy and, above all, will be building blocks of muscle.
One of the most attractive properties of Dianabol is its cheapness. It can be bought for about $50 (100 tablets per pack – for gaining mass and increase your strength is more than enough for a beginner).
Of the minuses, can be mentioned the possible serious side effects. If not taken properly, Dianabol, may cause acne (in most cases), pain in the testicles, bloody discharge, together with the sperm. Also worth noting is another big Dianabol minus – gained weight on the cycle can quickly "get away" after its completion, because Methandrostenolone retains water well and after taking it out, the mass drops sharply. Once again it should be noted that the cleansing of the liver after the cycle – a mandatory procedure, if you do not want to get serious problems with hormonal and general health of your body.
8673 total views, 3 today