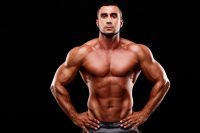 Testosterone (Test – in the world of bodybuilding) is the main male sex hormone. It plays an important role in the quality of men's life, it has a great influence on the processes which are occurring in the body. The level of this hormone varies throughout the day (maximum concentration is in the morning and lowest is in the evening). Training in the gym raises test levels, but if you train too hard and get overtraining, the hormone concentration will decrease in contrary. Today let's talk about how to test testosterone level and how to improve it.
What affects the level of testosterone:
age (after about 25-30 years, the level begins to fall by 1% per year);
lifestyle (well here I think everything is clear – when there is a healthy lifestyle – level rises, while smoking, consuming alcohol, excessive weight, poor diet -testosterone will be very low);
general state of health (immune system, chronic diseases);
mood or mental state (stress, depression means lower testosterone concentrations).
How to determine the level of testosterone
There are only 2 ways to determine the level of testosterone: by analysis of the blood, by physical appearance. For sure the first method is better, as it will show the exact concentration of testosterone, and the second can only show a general picture – high levels or low. Analysis is better to take in the morning the hospital, in order to get real time results, before going to the hospital is not recommended: to eat (for 8 hours before blood donation), conduct training (one day prior to the analysis date), smoking (6 hours before analysis). The accuracy of the results depends on whether you have fulfilled our recommendations or not. For accurate result is better to donate blood several times on different days, as the hormone concentration is constantly changing. The normal level is in the range from 500 to 700 ng/dL (testosterone units), if analysis showed less than 350 ng/dl, then you must act. Therefore, if you want to determine the level of testosterone, we advise you to consult specialists, who, if necessary, will be able to prescribe a treatment.
You can determine the level of testosterone by some aspects. Low test concentrations indicate:
Depressive states, irritability, insomnia;
Loss of muscle mass and strength;
Reduction of hair growth;
Excess weight;
Decreased sexual desire;
Infertility;
Anemia;
Increased sweating;
Dryness of the skin;
Impotence.
If you recognize yourself in at least three symptoms, immediately hand over the analysis on hormones and consult with doctors. Perhaps, by enhancing the level of the test will help you to change your lifestyle.
At high testosterone concentration:
A high sexual activity;
Developed muscles;
A low, masculine tone of voice;
Positive attitude;
Confidence;
The absence of excess weight;
High endurance;
Great feeling.
To increase the concentration of testosterone, will help you:
Exclusion of bad habits;
Proper balanced nutrition;
Positive mood, lack of stress;
Regular physical activity;
A complete recovery, sleep;
Maintaining regular sexual life;
Rejection of the use of sugar and salt;
Refusal of caffeine;
Obtaining vitamins in required quantities;
In training exercises give preference to the base;
Aerobic exercise reduces levels of testosterone, anaerobic – increase (in this case, ideal is power lifting and bodybuilding).
8158 total views, 3 today