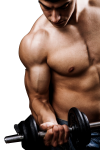 The ideal frequency, number of sets and number of repetitions will depend on your fitness goals. The best strategy will vary based on whether you are seeking to put on muscle fast or to tone and streamline your body, build endurance and lose weight.
Frequency
Research indicates that training approximately three times a week, or every other day, is ideal for both muscle building and fat loss. Muscles need a rest in between weight training workouts or progress will be slow or nonexistent. If you are seeking rapid muscle gain and wish to weight train every day, then focus on upper body exercises on one day and lower body exercises the next to ensure 48 hours of rest in between workouts for each muscle group. You can also alternate between working muscles on the front of the body one day and muscles on the back of the body the next.
Number of Sets
In a meta-analysis of 35 studies, 33 found that one set of 8-12 repetitions per exercise is just as effective as three sets, as long as the weight is heavy enough that you could not lift it more than 12 times. Although there are a few studies that support the three-set strategy, the majority indicate that one set and three sets provide equal gains, particularly for beginners. Very advanced weight trainers may require more sets for maximum gain, however.
Number of Repetitions
For toning, streamlining and muscle building, you should be able to do approximately 8-12 repetitions with your chosen weight—8-10 when starting with a new weight and 10-12 when you have been working with that particular weight for however many weeks or months are required to move to the next level.
The final repetition of any set should be very difficult. If you cannot lift the weight you have selected more than a few times, you need to choose a lower weight and work your way up. When it becomes relatively easy to do 10-12 repetitions at a given weight, the amount of weight should be increased by approximately 20% to keep challenging the muscles.
The number of repetitions will vary depending on your fitness goals and strength. Beginners and those who are training in order to lose weight, streamline their bodies and increase endurance but are not as interested in building large muscles should do more repetitions (10–15) at slightly lower weights. Those who are more advanced and are looking to build larger muscles more rapidly should choose heavier weights with which they can only do 8 repetitions to start and move to higher weights when they can manage 10. Those who are already very strong and wish to bulk up more rapidly can choose weights with which they can only do 6 repetitions to start and move to higher weights when they can manage 8 repetitions easily.
Workout Length
Your strength training workout should be at least 20-30 minutes, not counting warm-up and stretches. Workouts of this duration will generate benefits for most people. However, those who want to gain muscle or lose weight more rapidly and advanced weight trainers will need to spend longer at the gym.
steroids online for sale
Related posts
11099 total views, 2 today