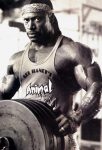 Training volume multiplies two variables – repetitions and sets. If the volume is too high, the body can be over-trained, leading to injury or decreased strength. If the volume or intensity is too little, the expected gains will not arrive.
The number of repetitions in a set can range from 1 and up, ending at muscle failure (the point at which another repetition is impossible). For beginners, a repetition is the completion of an exercise from the start position back to the start position, like one lap on a track.
The number of reps is dependent on the intensity. A "burn" must be felt no matter how many sets or repetitions a program demands. Hard work is absolutely mandatory.
The intensity can be changed by the repetition tempo. The time it takes to complete a repetition varies between seven seconds to as fast as possible. A beginner may want to take four to seven seconds to complete a repetition. This will help the muscles learn the movements.
However, the repetition intensity is usually changed by the weight on the bar, dumbbell, cable or machine. The more weight placed on the exercise, the lower amount of repetitions the body is capable of completing.
A set is a group of repetitions completed in one effort without stopping. The number of sets can range from 2 to 10, depending on the goal. A beginner may want to stick with two sets of an exercise with a high number of repetitions. This will help create muscle stamina.
Pick 1 to 3 exercises for each body part and adhere to the following guidelines.
If the goal is maximal or speed strength, complete 5 to 10 sets of 1 to 5 repetitions with 3 to 5 minutes between sets. The total volume for each exercise falls between 12 to 24 total repetitions.
Hypertrophy is muscle building. If this is the goal, complete 2 to 4 sets of 8 to 12 repetitions with 1 to 2 minutes rest between sets. The total volume per exercise is 24 to 36 repetitions. Make sure each set lasts between 30 and 70 seconds.
Endurance is for beginners and endurance athletes. Complete 2 to 3 sets of 12 to 25 repetitions with 30 to 60 seconds between sets. The total volume per exercise is 30 to 75 repetitions.
steroids to lose weight
4029 total views, 1 today