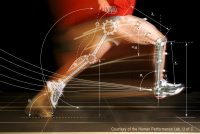 Aches and pains are a runner's worst nightmare. The continual stresses of on-road running for long distances play havoc on the tendons and ligaments of the lower extremities, causing some painful and performance threatening injuries. However through the use of optimal strength training, runners are able to not only prevent injury but improve their performances as well.
There are many benefits to strength training; however one aspect of it is often overlooked by the running community and that's its role in injury prevention. The misconception that lifting weights will slow you down is a common and often detrimental way of thinking that leaves many people riddled with aches and pains.
Common Injury Sites
A study done by the American College of Sports Medicine set out to measure the magnitude of the loads at common injury sites during a road run. During five running trials they measured that forces of up to 8.2 x Bodyweight (BW) were being sent through the Achilles tendon, 14.1xBW of compressive force was seen through bone-on-bone contact at the ankle, 14.2xBW of compressive forces were seen through the lower leg and up to 6.9xBW at the patellar tendon.
Developing a Programme
With these considerations in mind the next step is to plan out your strength training session, utilizing the best exercises that will have the most transferability to your running performance.
When the biomechanics of running are considered, it is clear that an increase in strength (both concentric and eccentric) of the major muscle groups of the leg will have a positive effect on injury prevention and on running performance (Verkoshanksy et al.). An effective way of increasing muscular strength is to adopt a high weight, low rep regime (Bompa et al.) using an exercise that targets all the major muscles of the leg, for instance, the Barbell Squat variations.
In addition to this, single leg training must also be utilized as to offset the risk of injury due to limb imbalances (The American Journal of Sports Medicine); exercises such as Step Ups, Single Leg Squats and Lunges have been shown to improve single leg strength and power (Verkoshansky et al.)
It should be noted, however, that while Strength training should be carried out as part of a runners programme, the capacity to increase Strength is severely reduced while simultaneously training for Aerobic conditioning (Issurin et al.). A periodised plan must be put in place, where one quality takes the primary focus and the other is maintained.
This targeted approach to injury prevention should not only keep you safe from common injuries but also dramatically increase your strength and power, leading to better running performance.
buy steroids gauteng
6214 total views, 2 today