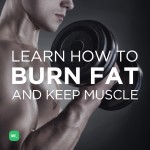 It wasn't too long ago that exercise programs seemed to emphasize cardio workouts more than any other type of exercise. By doing aerobics several times a week, people were told, they could lose or maintain weight and remain healthy. Today, though, it seems that exercise programs have undergone a paradigm shift. The emphasis now seems to be on weight-lifting programs, and the thought behind the push for this type of program is the idea that muscle burns fat. But is this concept true?
Resting Metabolic Rate
A person's Resting Metabolic Rate (RMR) is, at its most basic, how much energy (or how many calories) a person must expend to survive. People actually spend more energy than is allotted in their RMR, because the RMR is for one's resting (or inactive) metabolic rate.
Why understanding RMR is important, however, is because it is the first step to understanding if muscle mass really burns fat.
A person's RMR can vary for many reasons. A person's age, weight, height, and even environment to a degree can affect a person's RMR. The bottom line is that a person's resting metabolic rate determines how quickly a person expends calories, and a person loses weight when he expends more calories than he takes in. It really is that simple.
What Does a Person's RMR Have to do with Muscle Mass?
As mentioned earlier, RMR varies for many reasons. For example, a person who weighs 225 pounds will typically have a higher resting metabolic rate than a person who weighs 125. Similarly, a person who is six feet tall will have a higher RMR than a person who is a foot shorter. A higher resting metabolic rate means faster calorie burning.
When a person loses weight, his RMR decreases (meaning he will expend fewer calories doing the same activity that before burned more calories). As a person ages, her resting metabolic rate goes down. When a person's RMR decreases, he must either increase his amount of physical activity or decrease his caloric intake or he will likely gain weight.
There is good news when it comes to one's RMR, though. When a person gains more muscle mass, her resting metabolic rate increases. This means that lifting weights, weight training, and – ultimately – adding muscle mass to one's body does increase one's RMR. Increasing one's resting metabolic rate does, in fact, lead to burning more calories and, thus, more fat. Technically, when a person is exercising, he is usually burning both fat and carbohydrates, but if he's burning more calories overall, he is burning more fat.
Muscle Burns Fat: It's More Than Hype
Yes, it's true. Muscle burns fat. Cardio is important, but knowing that being lean and a little muscular will increase how quickly a person burns fat does lead a person to realize that weight training should be an important part of her workout routine.
buy steroids hgh
Related posts
12741 total views, 1 today