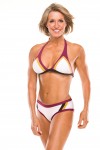 Building a dream body requires not only diet, but exercise. Her workout, aimed at women, focuses on toning and shaping muscles with weight training. The Eat-Clean Diet Workout is a step-by-step guide packed with full-color pictures, and includes a 30 minute DVD.
The Eat Clean Philosophy
According to Reno, no matter your age or fitness level, it's never too late to start working with weights. She says, "The beauty of weights is that you can tailor the resistance to your condition. As you tone up,lose fat and improve your shape, you will be able to add a little more weight to the bar. Gradually, with patience and dedication, you will accomplish your dream."
The focus of the book is definitely weight training, but Reno recognizes that there is more to getting fit and healthy than just raising a dumbbell. A large portion of the book addresses not just how much or often to train, but how to evaluate your current fitness level, body proportion, nutrition and supplements.
The Eat Clean Diet Workout is written with an easy going and approachable style, more like getting advice from a friend than a lecture from an expert. Reno doesn't discuss just techniques and how-tos. She also explains the why-tos, explaining the need for a well proportioned and balanced physique, along with how to achieve it.
The Eat Clean Workout
While the book is aimed largely at novices, Reno's workout and tips are useful for more experienced weight trainers as well as beginners. Beginners will benefit from her explanations of the basics, including the meaning of such jargon as "sets and reps," as well as the importance of gradual progression and techniques for proper form. They'll also appreciate the encouraging approach, which makes it clear that no one is expected to be perfect from day one.
Intermediate exercisers will probably not find the information on techniques as useful, since the book focuses more on weight training basics. More useful for these more advanced trainers will be the tips on staying motivated during workouts, some sample muscle-isolation routines, and the suggestions on such gadgets as gloves, training straps, and dipping belts that can be used to help improve workouts.
The Workout DVD
Rather than being a workout routine, the DVD serves as a primer on weight training. There are demonstrations of how to do 9 moves correctly, using 5-20 pound weights. The moves covered are basics that are needed for any weight training routine: the seated shoulder press, dumbbell bench press, lunges, reverse crunch, stiff leg dead lifts, single arm rows, standing dumbbell curls, single arm triceps extension and single leg raises. Reno also includes suggestions for warm-ups, and after demonstrating the moves goes over 8 stretches.
The Eat-Clean Diet Workout is most useful for women new to weight training, but still makes a good companion to the Eat-Clean Diet Cookbook for those interested in expanding their Eat-Clean lifestyle.
The Eat-Clean Diet Workout: Quick Routines For Your Best Body Ever!
buy steroids thailand
Related posts
11388 total views, 3 today