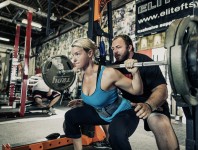 Johnson apparently was racking his last rep when the bar slipped form his right hand and fell onto his throat, crushing his neck and larynx, news reports said. He was taken to the hospital and operated on, and is expected to recover, but he's unlikely to play again this year.
"It hit him with a lot of force, and it hurt him," coach Pete Carroll told ESPN. "No broken bones as far as I understand, but he's got some damage in there somewhere, and they're working it out, trying to figure out what it is. … It is serious. He did get hurt, so we don't know exactly what it is, and they're not going to know until they go through the surgery."
The weight room can be a dangerous place. Athletes are throwing chucks of metal around at near- or maximal-effort and, sometimes, they miss their lifts.
That's why learning how to miss is important, as it learning how to correctly spot your partners and paying attention the entire time the lift is taking place.
It's human nature to occasionally let your attention wander while you're spotting, but it can lead to injuries, so make sure you stay focused any time you're spotting.
If you're spotting the bench press:
First, communication is the key. Make sure the weights are loaded evenly and that the locks are securely tightened on the bar.
Make sure both of your hands are securely gripping the bar with an alternating grip, so your palms are facing each other and the bar can't roll out of your hands. Generally, place your hands inside the lifter's hands.
Have a good, stable stance on the floor, keep your back flat and be ready to help lift the bar if the lifter can't complete the lift.
Be alert! It's easy to get distracted, but your attention to the lift is a critical component of a safe lift.
Be realistic about your ability to spot a lift. If you don't think you can lift a weight off after a failed miss, make sure you either get someone else to spot, or "team spot" the bar by getting help at each end of the bar.
If you're on the bench, make sure your spotter is ready to lift before you take the bar off the rack. If you need a liftoff, say so. And then, take control of the movement by explaining how you want to count down the handoff. As a spotter, make sure your handoff is smooth. Don't deliver the bar with a drop, a jerk, or more pressure on one hand than the other.
Lifters often like to complete sets they really shouldn't have even started, loading 315 pounds on the bar, for instance, and then missing every rep they try, while insisting "I can get all six."
The only thing multiple assisted reps really do is put the spotter in a bad situation. Each rep he has to "help" on is one more rep he actually has to complete; a bent-over or upright row with a back extension that's really not safe. It's like an accident waiting to happen. Put enough weight in the spotter's hands, and he's either going to get hurt, going to drop it on the lifter hurting him, or both.
Want to get the most out of your bench press? Pick the right weight and be smart about it. Assisted reps don't help anyone.
steroids research
Related posts
4195 total views, 2 today